Money
Do the Side Hustle: 5 Better Ways to Earn Extra Cash
Making it as an entrepreneur is no piece of cake. Whether you're working a day job you'd love to quit or struggling to get by in the early stages of a startup, staying financially afloat can be a challenge. One solution: find a side hustle.
A side hustle is a way to make some extra cash that allows you flexibility to pursue what you're most interested in. It can also be your true passion – a chance to delve into fashion, travel or whatever it is you care about the most without quitting your day job.
Related: Unemployment is an opportunity to make money successfully
"The only kind of positive side effect of the recession is people being resourceful or being forced out of the job market and pursuing their dreams," says Tracy DiNunzio, founder of clothing resale site Tradesy. "Side hustle can make that happen."
With many members of Generation Y working part time and facing a combined $1 trillion in student loan debt, it's become increasingly important for them to have a side stream of cash. In fact, an estimated 35 percent of millennials are currently involved in a side business.
Related: How to earn $1,000 a month when you're unemployed
A batch of startups are working to create new ways for entrepreneurs to creatively pursue their side hustles. From selling clothing with Tradesy to giving tours with Vayable, people are finding fun, flexible work that allows them to keep their day jobs. "The 9 to 5 was really an evolution of the industrial assembly line job. It's becoming outdated," says Vayable founder Jamie Wong. "We can see so much more that's out there."
Tradesy
The hustle: Turning your closet into a boutique, with a platform that allows women to buy and sell clothing online.
The story: Tradesy began as Tracy DiNunzio's side hustle after she launched a peer-to-peer ecommerce site for brides to buy and sell their used wedding dresses in 2009. Searching for some extra cash, DiNunzio began renting her apartment on Airbnb. Since scraping by on side hustle, DiNunzio has expanded from wedding dresses to all women's clothing, received over $1.5 million in VC investments and has 650,000 members.
How to make it your side hustle: DiNunzio recommends paying close attention to photos—cleaner and clearer shots give customers a better idea of what they are getting. In terms of pricing, "We make suggestions," she says. "You don't have to take them, but when you do items sell three times faster than they would otherwise." Trust the experts on how much your closet is worth.
Related: 7 Ways to make extra income even with a full-time job
Vayable
The hustle: Giving people unique city tours that focus on everything from food to street art.
The story: Jamie Wong's travels to over 40 countries left her with a good idea of what visitors wanted: guides who knew what cities were really like. "We want to empower locals, from students to retirees and everyone in between to monetize their passion and knowledge, as well as give the traveler what they want– an authentic experience." What started as an online blog that Wong maintained while working for The Daily Show, has grown into an extensive network of guides in cities around the world. Tours can be anything from a photography tour of Paris to a food tour of Chinatown in Flushing, N.Y.
Related: 11 Ways to make money while you sleep
How to make it your side hustle: "Vayable blurs the line between what is professional and what is amateur," says Wong, who says it really comes down to talent. The better the rankings you receive from individuals who have been in your tours, the higher you will appear in results and the easier time travelers will have finding you. "Creating a profile should showcase yourself," says Wong. "Ask yourself a question: what is your passion? What do you know about and what do you want to share?"
Chloe and Isabel
The hustle: Selling the company's jewelry, online and in-person.
The story: The founder is not named Chloe or Isabel, but instead Chantel Waterbury, a 15-year veteran of the fashion and jewelry industry. Waterbury's pre-fashion experience selling Cutco knives in college planted the seeds of direct sales in her mind. "The industry of direct sales had not yet been disrupted," she says. Waterbury is seeking to change that. In 2011, she launched Chloe and Isabel, a fashion company allows approved merchandisers to sell jewelry on a flexible schedule, online and in-person.
How to make it your side hustle: According to Waterbury, 15 to 20 percent of people who apply on a monthly basis are accepted. "Communicate with us [in your application] the goal you're trying to reach," says Waterbury. "A lot of people are just trying to break into fashion or corporate retail… Others are making money for something: rent, a car, spring break." But the first, and perhaps easiest thing every merchandiser needs to do is figure out if she is an edgy fashionista "Chloe," or an elegant, timeless-beauty "Isabel"—or a little of both. "It's not our brand, it's our merchandisers' brand," says Waterbury.
Related: 4 Tips from a 26 year old who built a $10million consulting business
DogVacay
The hustle: Taking care of dogs while their owners are out of town.
The story: Aaron Hirschhorn found himself between a rock and a hard place when forced to leave his dogs on the West Coast when traveling to the East Coast. "We left the dogs in the kennel," he says. "It cost $1,400 and one of my dogs was hiding under the desk for two days afterwards." So, Hirschhorn took it upon himself to find a better way to care for pets. After rounding up a hundred pet sitters in Los Angeles and developing a beta version of the site, he was able to convince investors that DogVacay was worth funding. Today, the company has collected $22 million in venture capital and spans 10,000 cities in the U.S. and Canada.
How to make it your side hustle: While DogVacay has a few professional pet sitters on the site, Hirschhorn says that 90 percent are "regular people," including college students, stay-at-home moms and people who would love a part-time pet. "The regular people offer an incredible experience," says Hirschhorn. "They go above and beyond with letters from camp or knitted sweaters or bake vegan dog treats." To make DogVacay your side hustle, it's all about passion and communication – show your temporary pet's parents that all is well through regular photos and fun extras.
Related: Experience is overrated in the corporate world
deviantART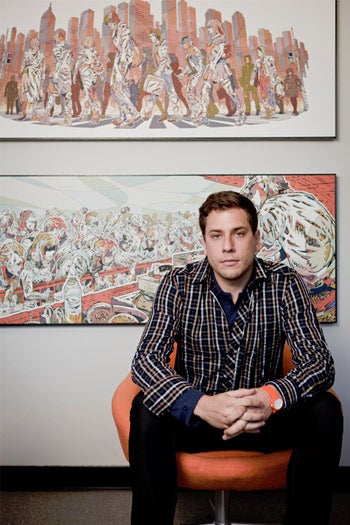 The hustle: Make money off your art by selling prints and digital downloads or creating commissioned works.
The story: DeviantART is significantly older than most digital startups side hustles. The website was founded in 2000, largely driven by the scene surrounding software skins. However, from the beginning it supported all forms of art. "DeviantART was one of the first places you could upload an image to a website," says founder and CEO Angelo Sotira. Years before Facebook or MySpace, there was deviantART. Over the past 13 years, innovations and trends have shaped the site. However, the dedication to art and community have remained the same. "Many of our members are deviants for life," says Sotira. With 2.3 billion pageviews per month, there are few better places online to share your art. "You might start at 13, but deviantART will be there for you at 25, 30," says Sotira.
Related: Franchising is a an easier way to start a business and expand an existing business
How to make it your side hustle: At its core, deviantART remains a community. To get the most out of the site, you must treat it as such. "The key in the community is to give back," says Sotira. "The culture is that [if you support others], then people will support you… The community will be there for you for life." In addition to quick side hustle cash from selling prints and downloads or creating commissioned works, deviantART provides key connections in the industry. While half of users are ages 13 to 24, users who have been with the site for years provide links to the profession art world, offering advice and models for the next generation of "deviants."
Source: Enterpreneur