Customer service
Social CRM: What It Is and Why It Is Important for your Business
With worldwide explosion of social media usage, businesses are feeling extreme pressure to be where their customers are. Today, that street corner is increasingly virtual, located inside a social media or networking site. Social CRM is the next frontier for organizations that want to optimize the power of social interactions to get closer to customers.
Here I've outlined the differences between traditional and social CRM and why business need to adopt the Social CRM strategies in their customer relationship management.
First, let me explain what CRM and Social CRM means…
Customer Relationship Management (CRM)
Any system used to manage a company's interactions with its current or future customers. This system is a piece of technology used to organise, automate and synchronise all of the customer facing areas within a company: from marketing to sales to customer service to technical support.
It offers the ability and time to develop other areas of the business, whilst ensuring that you're not letting existing clients down or responding to new enquiries in an efficient manner.
Social CRM
Social CRM is the integration of social media with customer relationship management strategies.
Comparison of traditional and social CRM
In the table below I have compared traditional and social CRM against four key parameters of customer relationship management to provide a better understanding of the differences between the two.
Marketing
Sales
Service & Support
Feedback
Traditional CRM
·           Marketing is all about direct advertising with the aim of boosting sales

·           Communication is one-way; from companies to consumers

·           This is sales driven. By collecting customer data, companies can target campaigns to specific customers

·           The idea is to keep getting them back for more

·           Customer service is operated within the hours and channels dictated by the company.

·           It is often autaimated and impersonal, i.e. a call center worker following a script

·           Company's directly contact customers to receive feedback.

·           Customers may share experiences through word-of-mouth, but within small circles

Social CRM
·           Customers want conversation and engagement; not direct advertising.

·           Reduces marketing costs by moving to social marketing

·           Social CRM is not a direct path to customers, but to potential customers

·           Sales via social commerce are expected to reach $30bn within five years*.

·           Customers expect brands to respond quickly using their preferred platform.

·           15% of 16 – 24 year-olds prefer to interact with customer service using social media*.

·           Customers share their experiences with millions online.

·           53% of Twitter users recommend companies in their tweets*
*Source: Socialtimes 2012 survey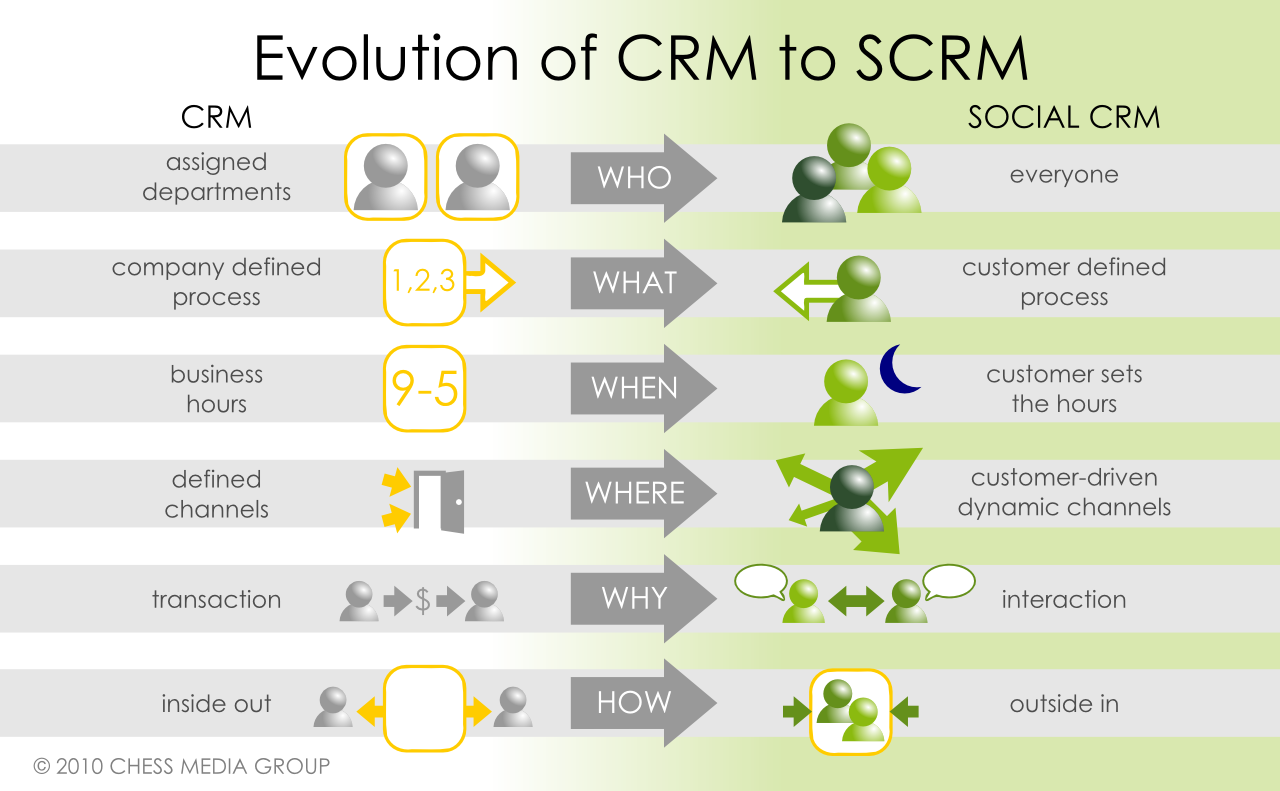 Why businesses need Social CRM now
Companies should be integrating social into their CRM strategies in response to their customers' adoption of social media.
Social interaction may not directly result in immediate conversion but will promote engagement that may indirectly generate leads, create influential relationships and build confidence in the brand, eventually driving future sales.
Social CRM holds unprecedented potential for companies to get closer to customers and by doing so, facilitate increased revenue, cost reduction and efficiencies.
Social CRM is about customer engagement and therefore sees a shift in focus from sales, to relationship building conversations, based on a belief that improving customer experiences with engagement will ultimately drive sales.
Businesses need to understand that most consumers do not engage with companies via social media to feel connected. It turns out, customers are far more pragmatic.
To successfully exploit the potential of social CRM, companies need to design experiences that deliver tangible value in return for customers' time, attention, endorsement and data.